We've been wanting to write a review for Nexgen Ceramic Spray for a while now. Dealers have been using it for over 10 years and Nexgen has finally made it available for consumers. This stuff is the latest and greatest and they've grown extremely fast over the past few years due to the quality of the product.
Nexgen Ceramic Spray Summary
According to Nexgen, this spray is a professional-grade sealer that creates a layer of protection on your vehicle's surface using a high-grade Silicon Dioxide (SiO2). This layer of protection reduces the ability for contaminants to streak, scratch, or otherwise degrade your vehicle's paint.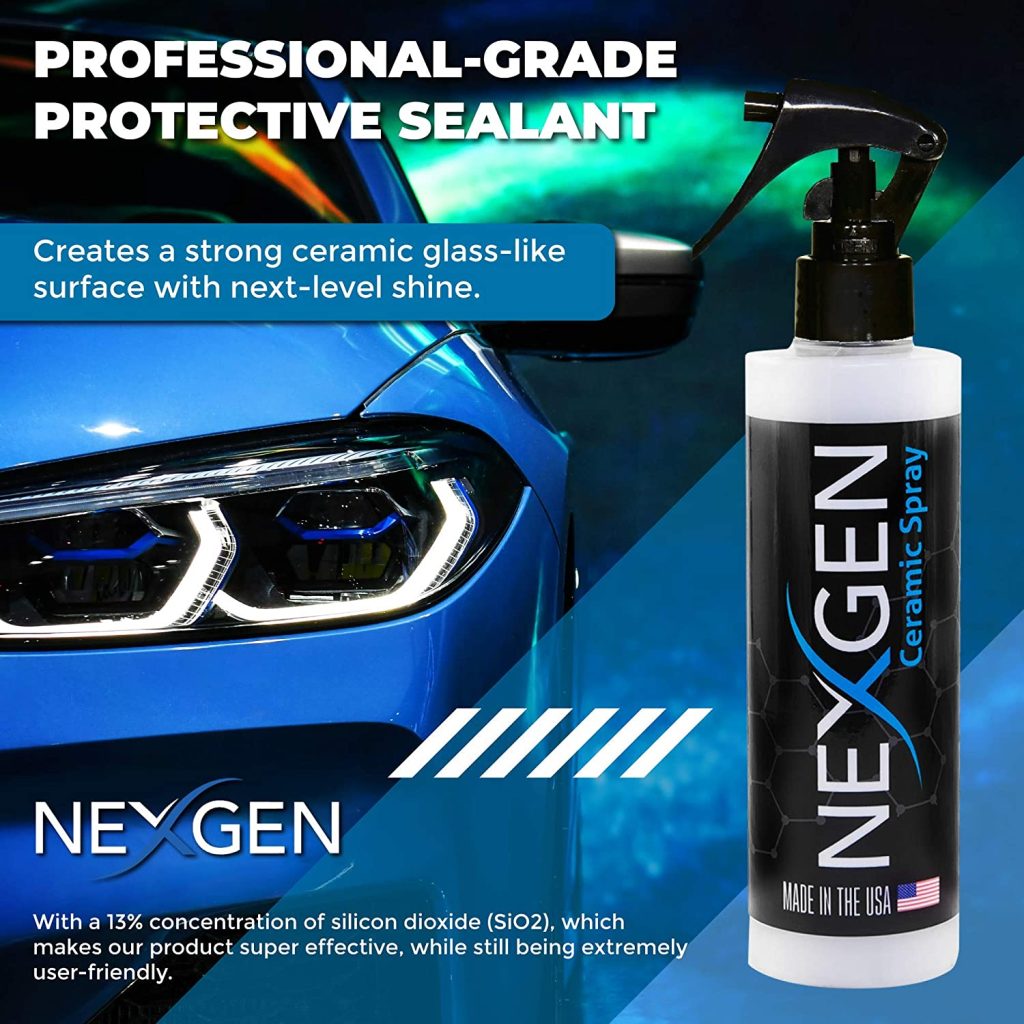 Overall Design
The bottle arrived sealed with a cap on it and a sprayer which on first glance looked a little cheap. We were quickly proven wrong as the spray is extremely nice and even. Its 8oz bottle fits snuggly in your hand for a comfortable application for even the largest vehicles. The bottle arrived sealed with a
How Do You Use Nexgen Ceramic Spray?
If you've used other ceramic sprays in the past this should be a walk in the park as it's the exact same process. Nexgen has done a great job of making the application process as simple as possible even for new users. For best results, apply Nexgen Ceramic to a clean cool surface that is out of direct sunlight. Simply shake the bottle, spray the product onto your vehicle's surface, wipe evenly with a microfiber towel, and then buff it for a shine.
Durability Test
Nexgen's website states the coating will last between 6-12 months and while we haven't had that much time to truly test this, we can provide an update. We washed our vehicle two days after the initial application and it went very well. Water is beading as it should and the gloss is still very noticeable. We will keep an eye on how this coating holds up and will be sure to provide updates as time progresses.
Are There Downsides to Nexgen?
We can't seem to find any major downsides to this ceramic coating. It's available on Amazon for fast shipping, it's easy to apply, and last 6-12 months. This will never be as good as a professional ceramic coating installation, but for the price, you can't beat it!
Where Can I Buy Nexgen Ceramic Spray?
There are two places to buy this spray both with pros and cons. The first place everyone checks is Amazon and yes it is available there. As of writing this post it is $34.95 and has Prime One-Day shipping. The other place to buy it is directly from Negen's website. While the shipping won't be as fast you can score some great coupons to get the price down. As of writing this post, there is a 40% off coupon getting the price down to $19.95. Big cost savings at the expense of shipping speed.
Summary: Should I Buy Nexgen Ceramic Spray?
If you are looking for an easy-to-use DIY ceramic spray, you really can't go wrong with Nexgen especially if you have one of those sweet 40 % off coupons. A DIY ceramic spray will never be as good as a professional installation, but the cost difference is major. We vote to give this stuff a try. If you don't like it Nexgen offers a 30 Day Money-Back Guarantee. If you aren't 100% satisfied with your purchase, you will receive a refund in full or exchange the goods. All you need to do is contact Nexgen Customer Service.
Buy on Amazon
Nexgen Ceramic Spray Silicon Dioxide — Easy to Apply, Ceramic Coating Spray for Cars — Professional-Grade Protective Sealant Polish for Cars, RVs, Motorcycles, Boats, and ATVs — 8oz Bottle
PROFESSIONAL-GRADE SEALER THAT PROTECTS YOUR VEHICLE'S SURFACE — This premium ceramic coating for cars creates an impenetrable layer of protection on your vehicle's surface. Using the highest grade of Silicon Dioxide (SiO2), which drastically reduces the ability for contaminants to streak, scratch, and degrade your clear coat and vehicle paint, while creating a mirror-like shine.
USER-FRIENDLY — With the fastest application time of any product on the market, Nexgen Ceramic Spray was designed for you to be able to protect your ride from scratches, fading, and other damage while also administering UV protection and a deep, lustrous shine. Protect your vehicle in three simple steps. Spray ceramic detail spray onto your vehicle's surface, wipe evenly with a microfiber towel, then buff out for an unbelievable shine!
VERSATILE CERAMIC SPRAY FOR ALL VEHICLES — Cover all your modes of transport. Ceramic coating spray is super effective on external solid surfaces, including on metal, paint, glass, plastic, and so much more: rubber, vinyl, alum wheels, powder coated wheels, leather, tires, chrome, gelcoat, denim paint. So, protect all the vehicles in your garage with our ceramic car wax spray and make sure your trucks, RVs, boats, motorcycles, dirt bikes, ATVs and more are protected.
PROTECTS AGAINST ENVIRONMENTAL CONTAMINANTS — Nexgen ceramic wax for cars was engineered to protect any solid external surfaces against: dirt, mud, salt, snow, pollen, smog, acid rain, water spots, bird droppings, bug guts, and general road grime. Whatever it is, we've got your ride covered. The hydrophobic formulation creates a glass-like surface that repels water and other environmental contaminants, ultimately protecting and extending the lifespan of your car's delicate clearcoat.
ENOUGH PRODUCT TO COAT YOUR CAR UP TO FIVE TIMES — An 8 ounce bottle contains enough product to coat a mid-size sedan 4-5 times, a large truck 3-4 times or a motorcycle up to 10 times.
Ceramic Coating Reviews is a participant in the Amazon Services LLC Associates Program, an affiliate advertising program designed to provide a means for sites to earn advertising fees by advertising and linking to amazon.com