Anyone who's ever thought about detailing their car has surely heard the hype around Shine Armor Quick Coat. In just a few years, it's quickly become one of the most talked-about products on the market, leading many to wonder if it's worth all the glowing praise. Well, today we're going to talk about it.
Shine Armor Quick Coat is a multipurpose spray that can be used on almost any surface, including on cars, boats, RVs, and even around the house. It's supposed to give your vehicle a quick and easy wash without any water, while simultaneously creating a ceramic clear coat. Use it to clean your car's interior or to remove any grime that may be on your car's surface.
Before you go out a buy a can of Shine Armor Quick Coat, take a minute to read through our review. We'll explain how the product works, share some of the background information, and go into greater detail about the pros and cons. If you're ready to detail your vehicle, let's get started.
Is Shine Armor Quick Coat for You?
When Shine Armor Quick Coat first hit the market in 2018, it was advertised as a one-stop solution to detailing needs. It was supposed to be a replacement for all the other products you use, such as waterless washes, sealants, and waxes.
The idea was that you could use it on any surface. It would clean and protect your car in one easy step and then last for months. Needless to say, people were pretty skeptical. A product that does everything sounded too good to be true. But over the last few years, Shine Armor Quick Coat has slowly won over the doubters.
More and more people are using it and singing its praises. So, the question is, is Shine Armor Quick Coat right for you? Well, that depends. If you're looking for a quick-and-easy, budget-friendly way to clean your car's surface, then yes, Shine Armor Quick Coat is a great choice. It's easy to use and it does a good job of removing dirt and grime.
However, if you're looking for a long-term solution to protecting your car's paint, then you might want to look elsewhere. Shine Armor Quick Coat does provide some protection, but it's not going to last for months like a traditional wax or sealant.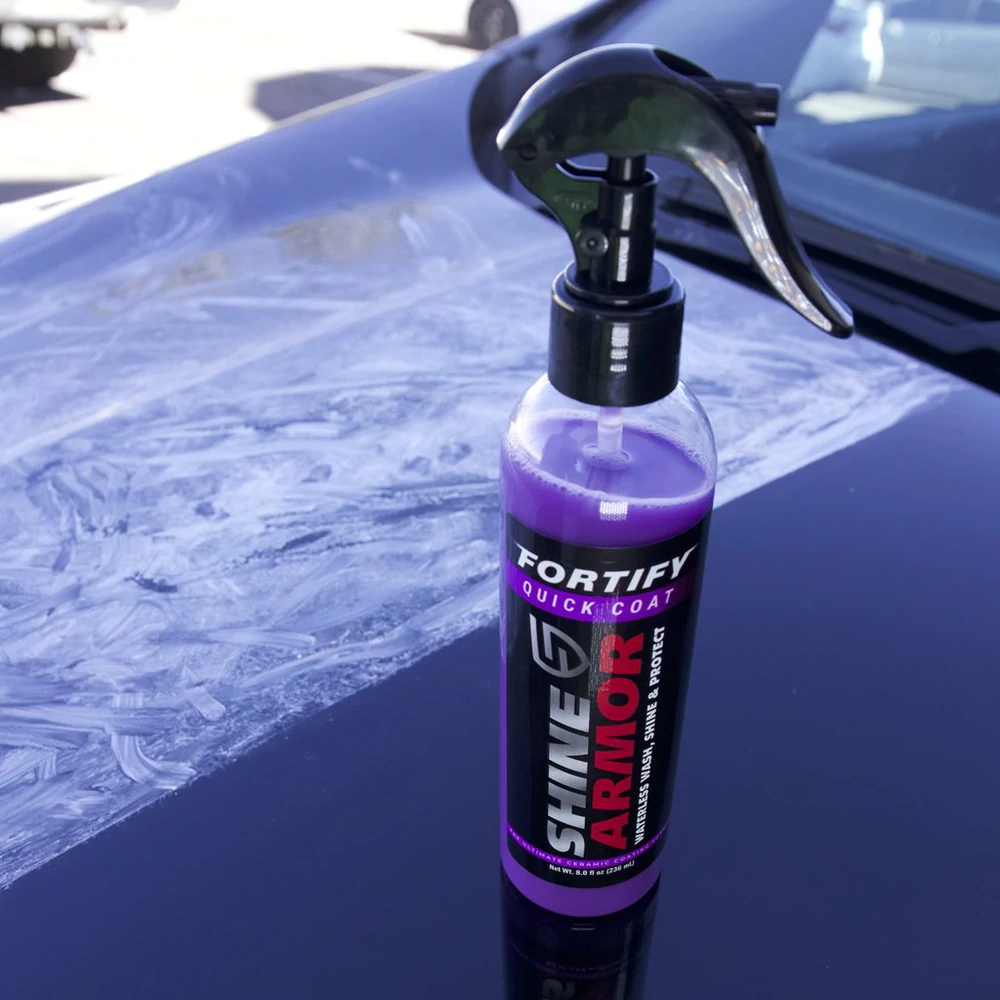 What We Like About Shine Armor Quick Coat
Shine Armor Quick Coat has a lot of things going for it. First and foremost, it's easy to use. You don't need any special skills or equipment to use it. Just spray it on and wipe it off. It's also quick. You can clean your entire car in just a few minutes.
Another big selling point is that it's pretty budget-friendly. A spray bottle of Shine Armor Quick Coat costs less than a single professional wash and wax and should last for several months. That's pretty cheap when you compare it to other detailing products on the market.
Finally, we like that Shine Armor Quick Coat can be used on any surface. You can use it on your car's paint, windows, wheels, and even the interior. It's a great all-in-one solution for people who want to save time and money.
What We Didn't Like About Shine Armor Quick Coat
Shine Armor Quick Coat is not without its flaws. The biggest issue is that it's not as durable as other products on the market. I.E., it likely won't last as long as a traditional wax or sealant. Compared to other brands, it contains less silicon dioxide, meaning that it won't provide the same level of protection as a more durable ceramic sealant.
Additionally, it's never wise to wipe a product onto your paint job without first cleaning away dirt. If your car is even moderately dusty, you could end up scratching the paint, no matter how well Shine Armor advertises itself as a cleaning product. At best, it works as a degreaser but not a cleaner.
Pros and Cons
| | |
| --- | --- |
| Pros | Cons |
| Easy enough for anyone to use | Less durable than other products |
| Budget-friendly and easy to find | Contains less silicon dioxide than its competitors |
| Suitable for any surface | May scratch your vehicle's paint if it's applied to a dirty surface |
| Cleans away grease while simultaneously restoring your topcoat | |
| Formulated to prevent smears and streaks | |
| Its hydrophobic formula keeps water off your vehicle | |
What's Included
Shine Armor Quick Coat is about as simple as it gets. The packaging is nothing more than a standard shipping box, in which you'll find a bottle of the solution, a spray nozzle, and two microfiber cleaning towels.
In our opinion, the packaging is pretty basic but the addition of two cleaning towels is a nice touch. You will have to assemble the spray nozzle on your own by unscrewing the bottle cap and tightening the nozzle into place. All-in-all, it's standard and nothing to write home about.
Features
Sold in 8 oz and 16 oz bottles
Includes 2 microfiber cleaning towels
Silicon dioxide-based formula helps seal your vehicle's surfaces
Cuts through grease to help better clean your vehicle
Scented with a sweet, grape-like quality to match its purple color
Although Shine Armor Quick Coat is pretty simple in regard to its features, we appreciated the small details that made it stand out. For example, scenting the formula to match its purple color really shows Shine Armor's dedication to quality and branding.
At the end of the day, there aren't many products out there that can promise to clean, coat, and protect your vehicle all at the same time. Although it might not be the perfect product, it does what it says and can help keep your vehicle in top condition just as well, if not better than any other product on the market.
Buy on Amazon
Sale
SHINE ARMOR Ceramic Coating Fortify Quick Coat Car Wax Polish Spray Waterless Wash & Wax Hydrophobic Top Coat Polish & Polymer Paint Sealant Detail Protection 8 Fl Oz
Advanced Formula 3-in-1. Our fortify quick coat is your all-in-one ceramic coating hydrophobic spray. Shine Armor Fortify Quick Coat ceramic car wax provides a waterless wash, coat, and shine, all-in-one convenient product.
No Streaking, Smearing Or Scratching. Shine Armor Fortify Quick Coat premium formula ceramic car coating is a gentle and effective car polish for any vehicle! Get a clean, shiny finish without hurting your car's paint.
Cuts Dirt, Grime & Grease. Our Quick Coat ceramic wax car sealant eliminates dirt, grime & grease instantly! Our signature 3-in-1 formula gives you a waterless car wash, coat and shine for a clean, showcase look.
Safe For All Surfaces. Use this car wax spray-on automobiles, boats, motorbikes, RVs, four-wheelers and more! This spray wax is the perfect blend of surfactants and SiO2 ceramic-coating science.
Superior Products. This means superior shine for your cars! Our ceramic quick coat also works as a sealer to give your vehicle a clear shield of protection while also providing a beautiful gloss. Our ceramic coat is the best hydrophobic car spray available!
Final Breakdown
After carefully reviewing and testing Shine Armor Quick Coat, we're proud to award it a 9 out of 10. We don't recommend using it before hosing your vehicle down but, after clearing away dust and dirt, it's an excellent degreaser and sealant. Not many products can offer the same range of benefits that Shine Armor does.
Best of all, it's an incredibly easy product to use, no matter if you're a detailing expert or an average guy looking to put some shine back into his vehicle. We recommend for anyone wanting to amp up their detailing game and advice you to order some today.